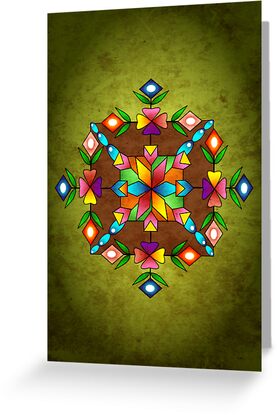 Here's a link to give you an idea of this Indian folk art.
http://www.ikolam.com/
Kolam is an auspicious art of decorating courtyards and pooja rooms/prayer halls in South India drawn mainly by women and girls. Some women use rice flour to draw a kolam, which is the traditional medium to be used while others use sandstone or limestone powder. Although commonly known as Rangoli in many parts of India , it is known as Muggulu in Andhra pradesh, Rangavalli in Karnataka, Poovidal or Pookalam in Kerala, Chowkpurana in Uttar Pradesh, Madana in Rajasthan, Aripana in Bihar and Alpana in Bengal.
Generally, a kolam is drawn with bare fingers using predetermined dots. The dots are either connected together to make a pattern or loops are drawn encircling the dots to complete a design. Nowadays there are perforated rolling tubes, perforated trays and stencils available to speed the process of making kolams. During festivals and weddings, rice flour paste is used instead of the flour. This tradition of decorating with kolams is passed on from generation to generation.